MEKA INCLINED SCREENS – HIGHLY EFFICIENT AND PRECISE SCREENING
MEKA Inclined Screens offer high precision screening and safe and durable operation. MS and MGS series inclined screens are designed without any welding on the side plates which are fixed to the main frame using huck bolts. This robust structure ensures long service life and reduces maintenance costs. All MEKA screens meet international standards and exceed the requirements for the industry.
---
More info Find out more about MEKA products from manufacturer's website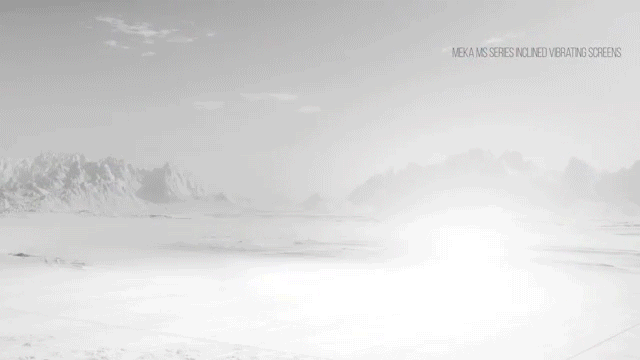 HUCK-BOLTED ASSEMBLY
Side steel plates on all MEKA Inclined Screens are locked tightly to the main frame using huck bolts. This connection ensures safe operation of the machine, reducing labour costs and downtimes. On conventional bolted assembly screens the nuts can get loose, with time, under constant vibration which can cause instability and failure. Frequent stops are required for inspection and tightening of nuts. The MEKA Huck-bolted design is superior to conventional screens.
SIDE STEEL PLATES RESISTANT TO VIBRATION
Each MS and MGS series inclined screen is made of high-tensile heat-treated side plates and are resistant to vibration, with no welding. The plates are durable against cracks from holes in the body, especially around the drive system.
VIBRATION ANALYSIS
All MEKA screens are tested at the factory before being dispatched to the customer. Each screen must pass a rigorous quality test to achieve the targeted stroke, acceleration and stroke angle. The quality of screens, and feeders, is measured using a unique evaluation algorithm developed from latest, advanced engineering technology.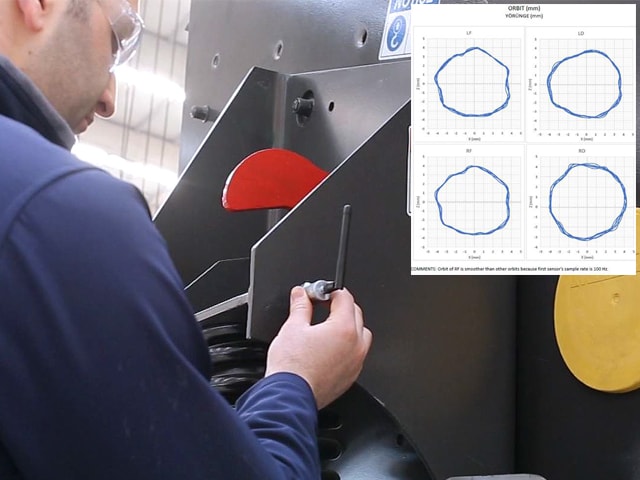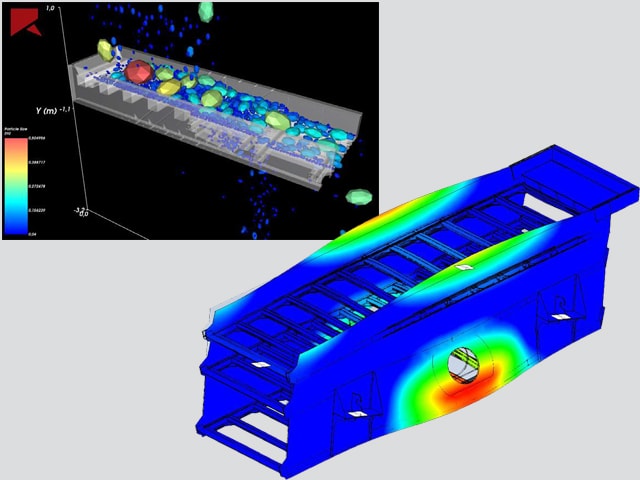 DEM & FEM ANALYSIS
MEKA Research & Development centres are using pioneer computing analysis methods. The most advanced method for aggregate processing industry is DEM (Discrete Element Method). It accurately simulates the flow behaviour of bulk materials with complex particle shapes and size distribution. FEM (Finite Element Method) is another test that simulates the reaction and stress, of the machine structures, under load and thermal conditions.
SELF-TENSIONED MOTORBASE
Self-tensioned motor bases are a standard feature on all MS and MGS series inclined screens. It protects both the electric motor, and drive belts, against tension caused by vibrations during start/stops reducing the risk of potential failures.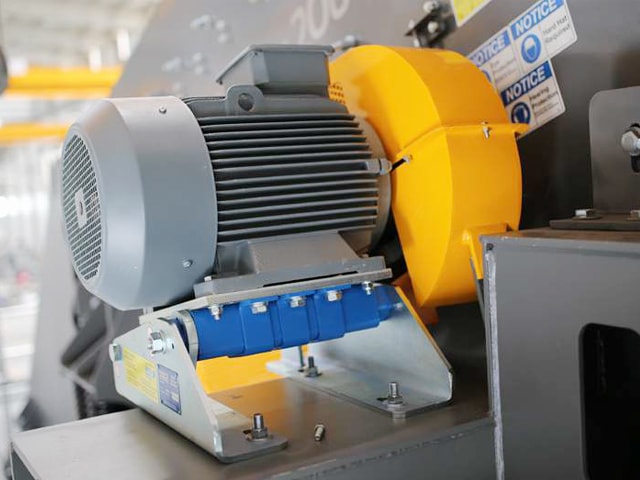 MODULAR-TYPE DRIVE SYSTEM
All MEKA MS and MGS series inclined screens are equipped with a modular-type drive system with cardan shaft connection for easier servicing. The drive and bearings on each side can be detached and accessed independently, reducing the service duration. The cardan shaft allows for a smoother operation and is lighter than single piece shafts.
WET SCREENING
All MEKA screens can be prearranged for wet screening. The holes for the pipes can be predrilled at the factory and closed with rubber capping. We can also supply full sets for washing including spray bars and nozzles and make some reference to correct sizing, water pressure and optimisation.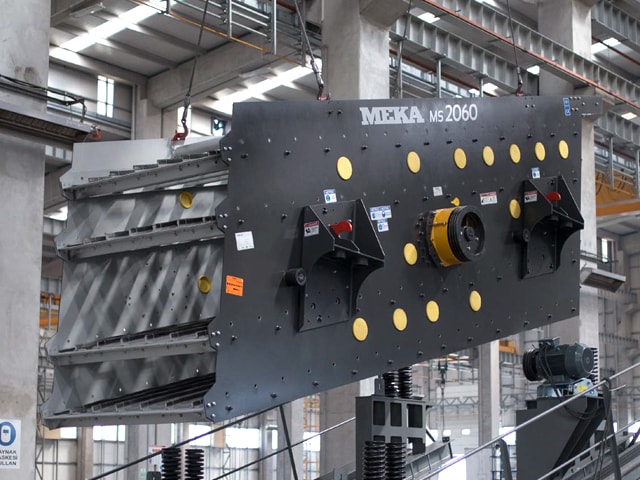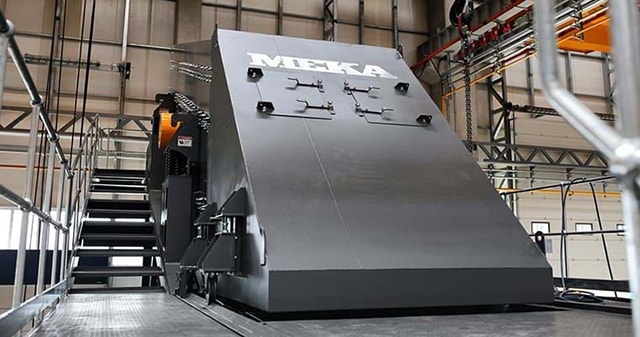 ROLL-AWAY CHUTE FOR EASY MAINTENANCE
Changing the screen mesh panels have never been so easy. To simplify the maintenance process and reduce the downtimes all MEKA Inclined Screens, with an effective screening area of over 8 m², are equipped with a roll-away front chute. The chute moves without any lifting equipment.
MGS SERIES GRIZZLY SCREENS FOR HEAVY-DUTY SCREENING APPLICATIONS
The material often needs to be screened before the primary crushing group in accordance with the installation plan. In these cases, standard inclined vibrating screens would not meet the required load and screening capacity. To manage these applications MEKA offer a range of heavy-duty screens with grizzly or perforated steel sheets, on top decks, to avoid any potential damage that can be caused by large sized rocks. The overall body structure and springs are stronger and more durable in order to meet the heavier loads and impacts.