25 Years Building Concrete Plants to the Highest Standards
Every BES project reflects our attitude towards engineering with optimal space utilisation, and safe operation of equipment, at the heart of our operation. We are currently, and have been, involved in some of the most important projects for infrastructure in the UK. The art of building reliable plants takes years to master and a great amount of valuable customer feedback allowing us to develop our operations to meet the requirements of new clients.
---
More info Find out more about MEKA products from manufacturer's website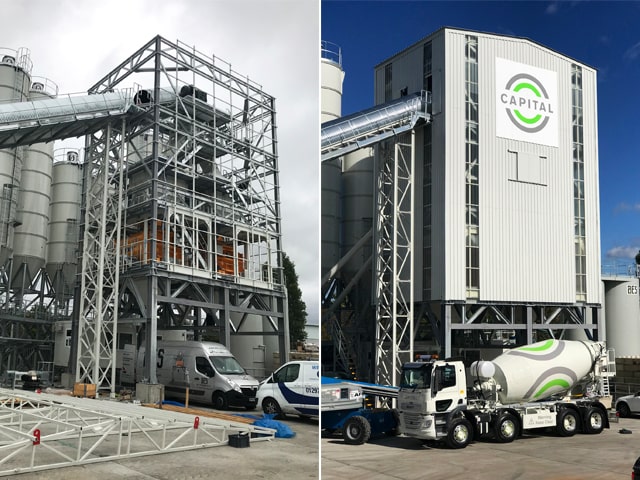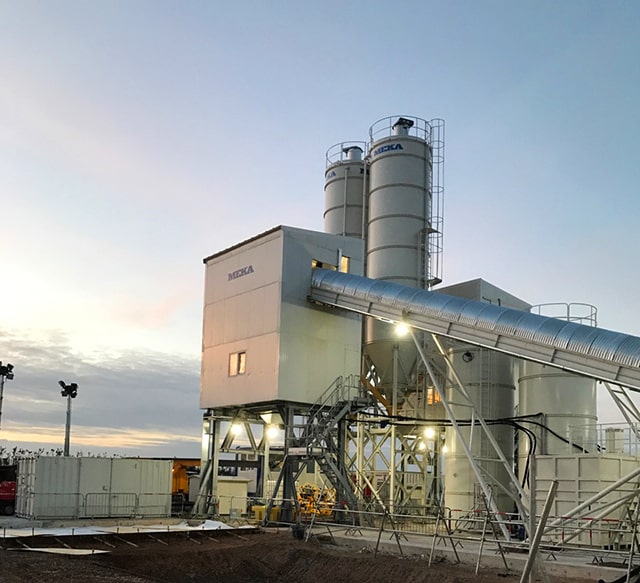 When Productivity and Performance are Essential – Up to 300 m³/h Capacity
No matter what your requirements are, we have a solution for it. The MEKA Static Concrete Batching Plants are designed for maximum capacity, flexibility, efficiency and reliability. They are capable of producing all types of high-quality concretes cost effectively, with production outputs ranging from 30m³ to 300m³ per hour.
Tailor Made Unique Products Designed to Your Requirements
With over 25 years of experience in building concrete plants BES and MEKA can offer you unique solutions designed to meet your specific requirements and site conditions. We are a company with a wealth of expertise in Engineering and Problem Solving; no project is too big or too small!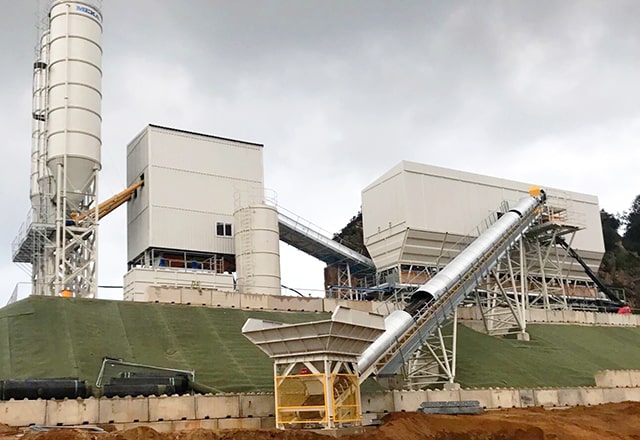 Highly Configurable Equipment
Your concrete batch plant must be flexible enough to meet all the requirements from a demanding and evolving market. MEKA concrete batch plants are amongst the most configurable available, giving you a range of options to meet your requirements.
We can offer additional equipment for the following needs:
Adding microsilica (Dry or Slurry) into the mix.
Adding Anhydrite into the mix.
Adding second type of cement or ash, lime or GGBS.
Adding steel or polypropylene fibre.
Additional measurement and control with Aggregate and Mixer moisture probes.
Concrete mixer slump reader / Temperature control
Various aggregate feeding systems to wisely utilise the free space on site
Additional discharge leg for Wet, Dry and Half-Wet production
Swivel chute to prevent leaking on trucks
High pressure mixer washout system
Recycling systems and recycled water tanks
Preferable Choice for Precast Manufacturing
The MEKA automation system adjusts the batching of materials, for higher output, during the manufacture of Readymix Concrete. The ability to make accurate corrections to the amount of materials in the next batch increases the overall capacity of the plant, without compromising the quality of the product.
To manufacture prefabricated concrete products the plant will be required to ensure exceptional weighing accuracy for every single batch. MEKA static concrete batching plants can easily be configured for precast manufacturing and will meet the precise weighing requirement. MEKA Planetary Concrete Mixers offer unmatched shorter mixing times where 100% homogeneity is required. To increase your flexibility special colour weighing bins and other precast dedicated additives can also be included.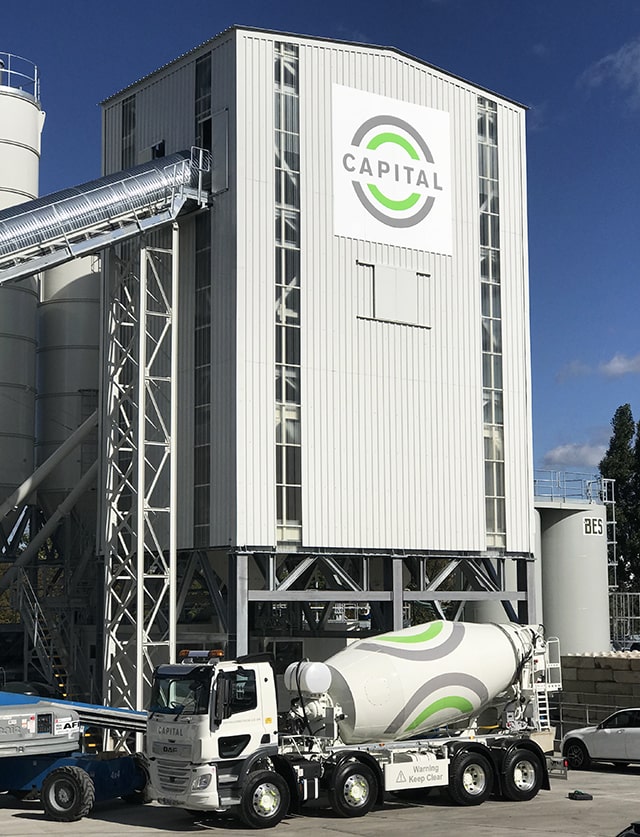 What are the Advantages of MEKA Static Concrete Plants?
High Capacity and Efficiency: You get it all from your static concrete batching plant, up to 300 m³/h.
Robust Rigid Structures: Heavy and stable steel frames provide extreme durability, safe transportation, continuous long-life operation and sensitive weighing by minimizing vibrations to the scales.
Highly Configurable: Static concrete batch plants are not limited in configuration and can offer a wide range of solutions to meet your specific requirements.
Ease of Access and Service: Static Plants offer more space than compact/mobile plants making routine servicing, and maintenance, simpler as access to machinery is often much easier.
Durability: Static concrete plants offer maximum durability and lifetime.
Galvanised Structures: Most of the steel frames including platforms and handrails are galvanised for longevity.
Why choose MEKA static concrete plants?
A plant for life: Durable equipment offering a long service life
Great return on investment: MEKA concrete plants are cost effective, and affordable, giving you greater (and faster) returns on your investment.
Continuous support and spare parts: BES keep essential spare parts in stock and our Engineers are available to assist you, if required. We can also offer a rapid delivery service for most non-stock items to keep you in operation.
Packed with features:
A separate chassis dedicated to weighing hoppers: Unlike many manufacturers, weighing hoppers on MEKA static concrete plants are installed on a separate chassis to minimise vibrations from the mixer.
Multi-Loadcell scales: Cement and water weighing hoppers are equipped with more than one loadcell to optimise load distribution and ensure maximise accuracy.
High Quality Components: BES supply premium parts using global, well-known brands. Many parts for our plants are readily available, on the market, ensuring long-term, reliable operation and minimising break-down times.
Easy maintenance: Wide, galvanised service platforms on the mixer chassis, weighing level, aggregate bins and along the conveyors allow for safe and easy servicing. Health and Safety is at the heart of all our designs and installations.
Command Alkon automation software: 'Tried and tested' software, designed for speed and accuracy. You can have the option to use your own system, if required.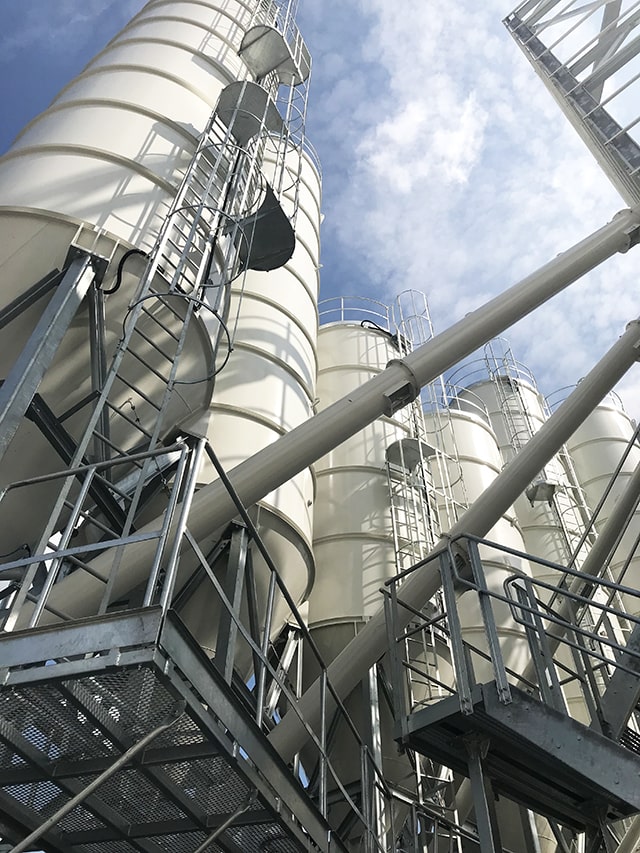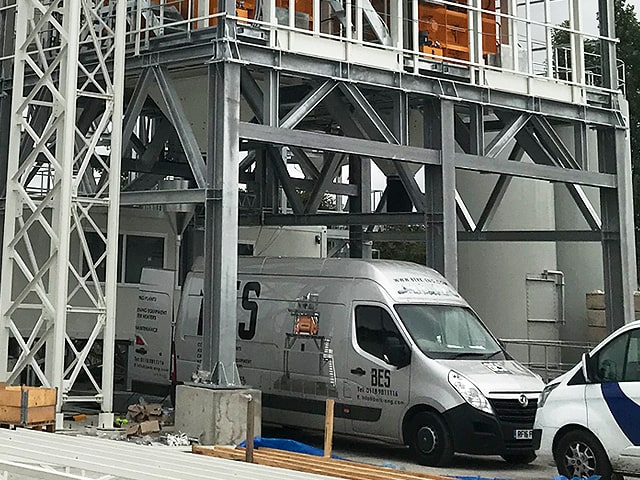 Sales go up and down, Service Stays Forever
BES are always here to help you with service and spare parts. We guarantee a rapid response to your service and spare parts enquiries. To keep you operating we stock a range of essential spare parts to ensure your plant remains running smoothly.
Reference Project: Capital Concrete
Capital Concrete is the biggest static wet concrete batch plant installed in Wembley, London and is a unique installation for the UK.
The plant comprises 2x5.0 m³ twin-shaft mixers with dedicated aggregate holding hoppers. 6x75 m³ aggregate storage bins with independent aggregate weighing hoppers allow for simultaneous weighing of all the aggregates significantly increasing the overall output capacity of the plant.
This special concrete batching plant can produce up to 300 m³/h. Click here to read more about it on our News Page.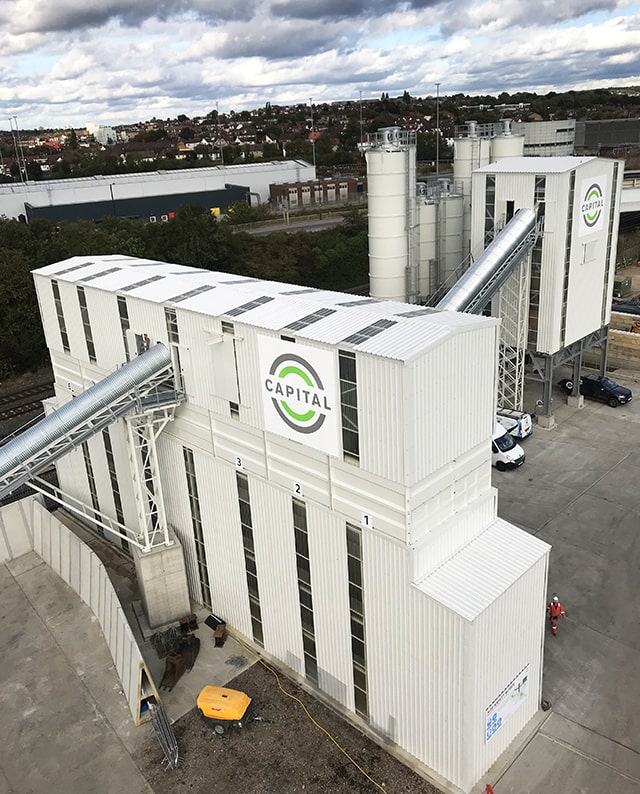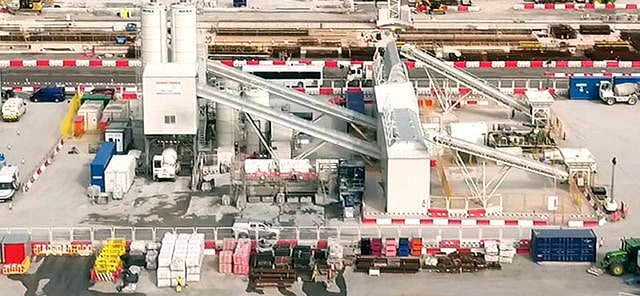 Reference Project: Hinkley Point C
Hinkley Point C nuclear power station is a project to construct a 3,200 MWe nuclear power station for two EPR reactors in Somerset, England.
Working together, BES and MEKA, designed and installed 2xMB-110K concrete plants for the Keir-Bam project. Each plant was able to meet the demanding concrete quality requirements for the Nuclear Industry.
Both plants are equipped with an aggregate hot air heating system allowing for production of concrete in cold weather conditions. Find out more on our News Page.
Reference Project: Granite Products
Granite Products supplies aggregates, ready-mixed concrete and concrete blocks to the Jersey market for use in infrastructure, housing and civil engineering projects.
The company required a plant that could be fed from a quarry in a lower elevation. Working with the Client we designed and installed a plant that could meet all their special concrete requirements considering local market conditions and the site they own.
BES and MEKA provided a unique plant with two main chassis using one aggregate bin. Find out more on our News Page.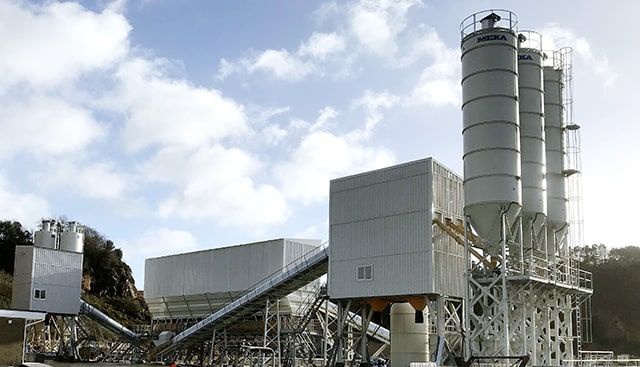 Interested?
See more Static Concrete Batching Plants in our gallery, learn more from downloads or contact us for information.