What is your definition of clean?
The Ready Jet® remote controlled, high pressure cleaning system for safely removing residual hardened concrete from inside truck mixer drums, without the need for human entry.
The Readyjet is a safer and more efficient, alternative to traditional concrete drum cleaning methods and provides a viable alternative for both service providers and ready-mix plant fleet operators, who are looking for a proven solution for removing residual concrete from inside concrete mixer drums without the need for personnel to enter inside the drum.
Proven water blasting technology ( 1400bar )
The safest cleaning method in the industry
Minimises risk of injury or accidental death
Eliminates damage to the drum interior and exterior
Lowers fleet maintenance costs
Increases productivity, mix quality, and efficiency
Semi-robotic control for safe and consistent operation?
Improved operator working conditions
---
Contact Us Find out more about how we can help with your concrete removal today.

The Ready Jet is a sustainable solution
More capacity means better fuel efficiency
The less residual hardened concrete build-up on board, the more capacity there is for *green* concrete and therefore, the truck will be lighter and more fuel efficient. Save £1,000 or more per year per truck on fuel costs. From an environmental standpoint, the Ready Jet saves up to 22.2lbs / 10kg of C02 per gallon of diesel fuel burned and the water is recyclable. The more residual concrete build-up there is, the higher the health and safety risks when manually chipping the drum.
The Ready Jet is a safer solution
Safety is priceless. We realized keeping the mixed drums clean on the inside without entering the drum has always been a challenge.
The health and safety of your staff or chipping service is greatly improved. There is no longer the risk of working in a confined space and being exposed to noise, deadly falling debris and silica respiratory dangers. These can be greatly reduced using the Ready Jet Robotic Concrete Removal System.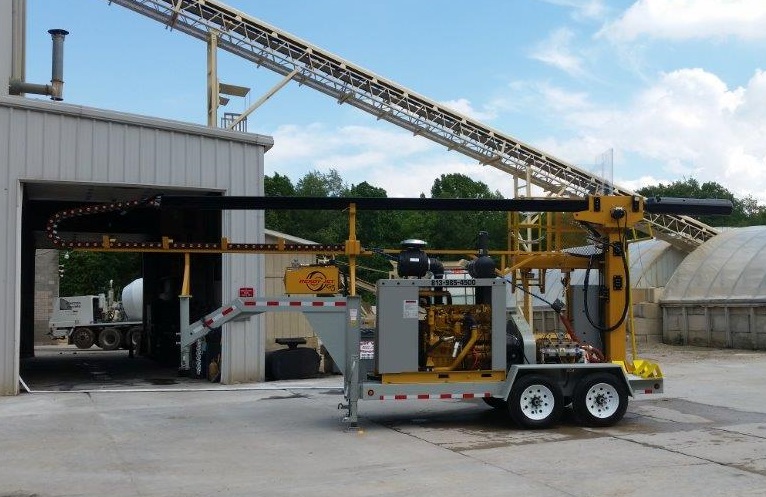 Interested in our Ready Jet G3 Robotic Concrete Removal System?
Find out more about how we can help with your concrete removal today.