You never know where your next project might be
The MEKA range of quick erect, mobile concrete batching plants have become internationally renowned for their reliability and high quality and are rapidly becoming the preferred choice for many professional concrete producers, all over the world. MEKA mobile concrete batching plants give you the flexibility to set up and manufacture concrete, almost anywhere, in a matter of days. It is the best choice for temporary work sites and our model range can offer many improvements to your operation.
---
Contact Us Find out more about how we can help with your mobile concrete plant needs today.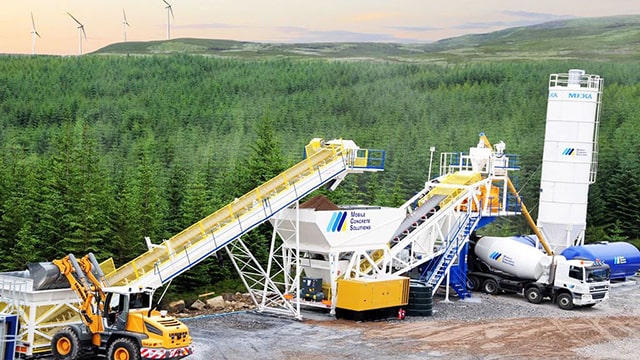 Up to 120m³/h output capacity from MEKA mobile concrete plants
A mobile concrete plant offers the same levels of equipment as static models. The only difference is that all the components are installed on a special wheeled chassis, designed for easy transport and fast erection. Static concrete plants are not easy to relocate as the steel structures are designed for other benefits. The option to move a plant to locations where concrete cannot be delivered by trucks has required Engineers to come up with a practical solution – mobile versions of concrete plants.
What are the benefits over the Static Concrete Plants?
Mobility – the option to relocate your mobile concrete plant operation quickly and efficiently on sites unsuitable for static plants.
Ease of installation – rapid relocation and installation of the mobile concrete plants.
Modular construction – the main components on the mobile concrete plants are installed on a wheeled chassis for road transport. The plant is designed to be installed in modules to reduce crane operations and installation time.
Reduced plant footprint – the footprint of a mobile concrete plant is smaller and reduced foundation work significantly reduces groundwork costs.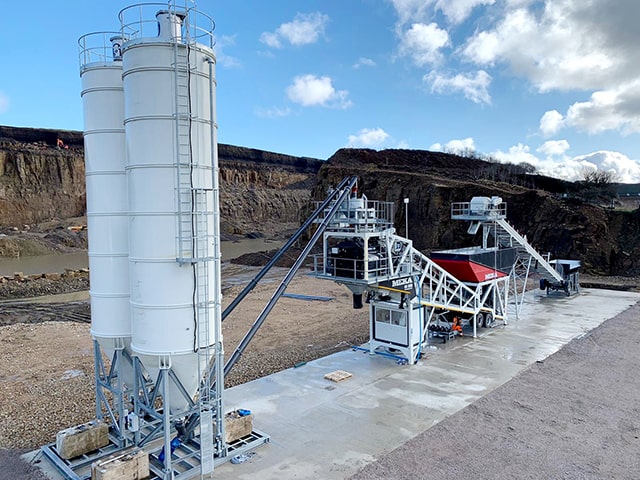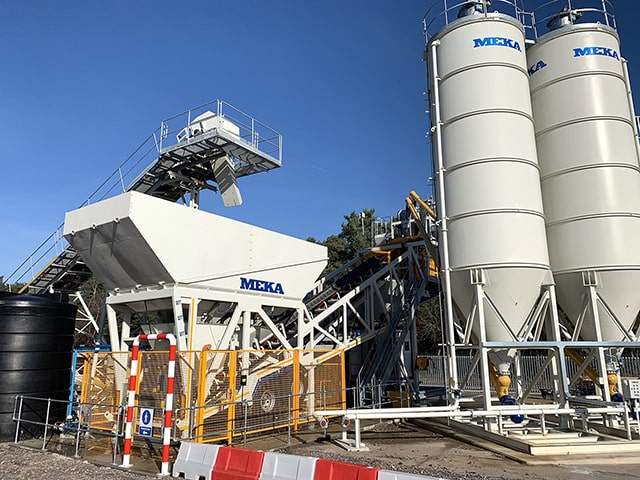 What are the advantages of the mobile concrete plants?
Easy to transport - the majority of the components of the mobile concrete plan comes preinstalled on the main chassis
Easy to relocate - Depending on the equipment of a mobile concrete plant a Dismantle/Transport/Install within 7-14 days is quite achievable.
Reduced costs – the modular construction reduces the amount of crane work and associated labour cost.
Smaller footprint - allows to a set up production on the most challenging sites.
Less foundation work required - a flat slab capable of carrying the weight is normally sufficient for the installation of a mobile concrete plant.
Less special permissions required - In some cases, it is much easier to obtain the installation permission for mobile concrete plants
Why choose MEKA mobile concrete plants?
Heavy and rigid main chassis: Mobile does not mean lightweight. MEKA Mobile Concrete Plants are amongst the most robust available on the market to ensure safe transportation, continuous long-life operation and sensitive weighing by minimizing vibrations to the scales.
Unique chassis design: All of the operational equipment required for production is installed on the main chassis of a mobile concrete plant and is transported on it. Water buffer tank, water pump, additive tank and additive pumps along with air compressor come preinstalled on the main chassis. All the equipment is pre-wired and tested.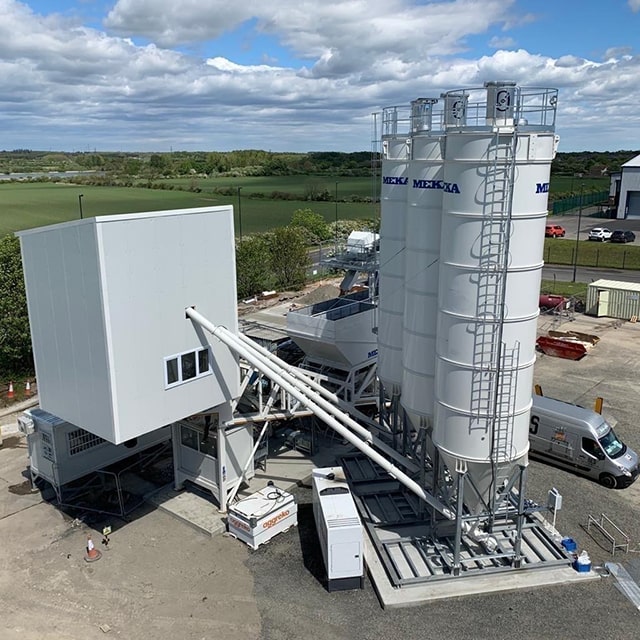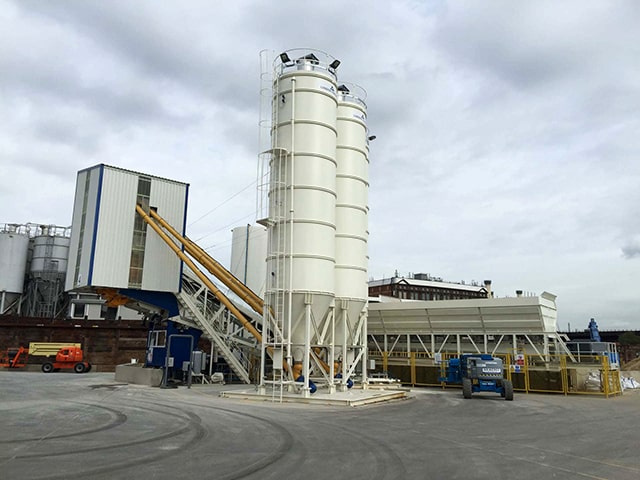 Packed with features:
A separate chassis dedicated to weighing hoppers: Unlike many manufacturers, weighing hoppers on MEKA mobile concrete plants are installed on a separate chassis to minimise vibrations from the mixer.
Multi-Loadcell scales: Cement and water weighing hoppers are equipped with more than one loadcell to optimise the load distribution and ensure maximise accuracy.
Belt cleaning system: A special chevron belt cleaning system, with a brush, minimises the material spillage.
High quality components: MEKA only use premium parts from global, well-known manufacturers. Most of the components of a mobile concrete plant can easily be found on the market, ensuring long-term reliable continuous operation with minimum breakdowns.
Easy maintenance: Wide, galvanised service platforms on the mixer chassis and weighing level allow safe and easy servicing, important from health safety perspective.
Command Alkon automation software: Designed for speed and accuracy.
Mobile aggregate feeding conveyor
The design of mobile concrete batching plants requires the aggregate bin height to be high. In order to reduce the cost of building a one-side, or two-side, feeding ramp we have developed a mobile aggregate feeding system. It allows for easy aggregate feeding without the additional costs required for a foundation or ramp. The rotating chute, on the top, distributes the material between 4 bins and a camera, viewed through a monitor, helps the operator to choose which bin to feed. The mobile conveyor can be supplied with a wheelbase for mobility or without for container transport.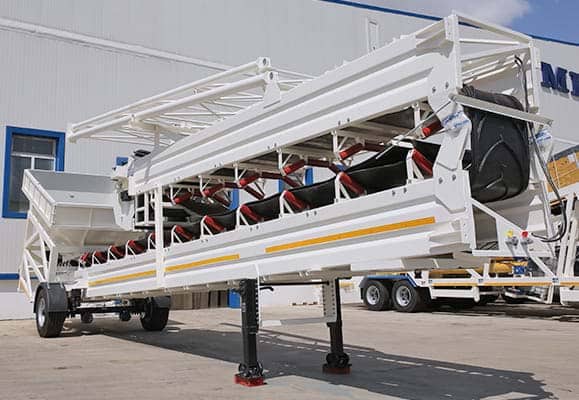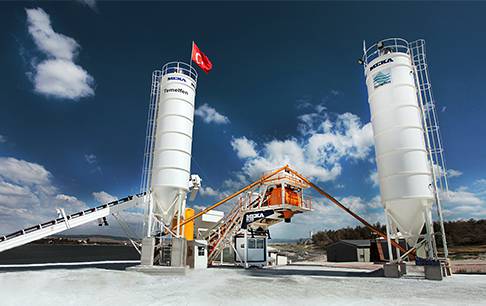 Available Models
MB-60M - Mobile Concrete Plant
Capacity up to 60 m³/h of compacted concrete
1 m³ Twin Shaft or Single Shaft Concrete Mixer
4x10 m³ aggregate storage bins
Fast installation and relocation
Optional cladding
MB-100M - Mobile Concrete Plant
The bestseller in the UK with the capacity of up to 100 m³/h of compacted concrete
2.25 m³ Twin Shaft Concrete Mixer
4x15 m³ aggregate storage bins
Fast installation and relocation
Optional cladding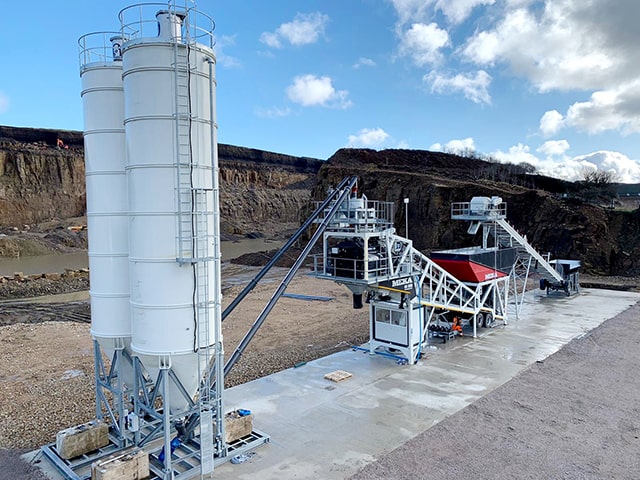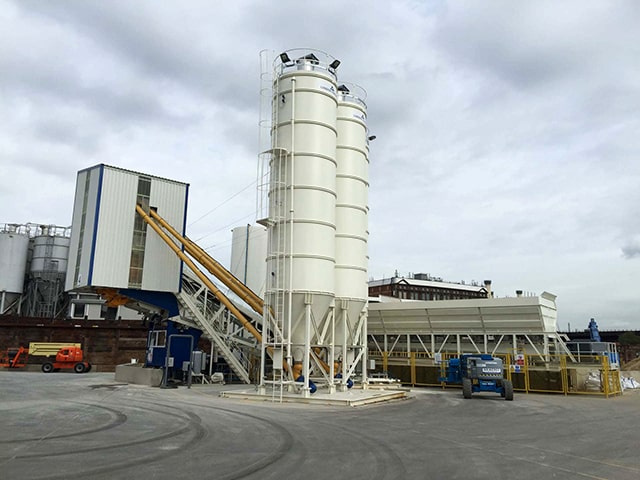 MB-135BM - Mobile Concrete Plant
Mobile mass production with the capacity of up to 135 m³/h of compacted concrete
3.33 m³ Twin Shaft Concrete Mixer
4x30 m³ large aggregate storage on a separate wheeled chassis
Comparable performance to static concrete plants
Optional cladding
Interested in Mobile Concrete Plants?
See more Mobile Concrete Plants in our gallery, learn more from downloads or contact us for more information.