Introducing Fibres into Concretes
The use of Fibres for reinforcing concrete material has been in existence  for  1000's of  years . The ancient Egyptians used straw to reinforce their clay bricks and straw was also found in clay bricks many years earlier. Thousands of years ago asbestos was also being used with the same purpose – to provide a more flexible and solid construction material. Research into the use of fibres continues today and fibres are being used by thousands of construction companies worldwide and MEKA provide the perfect solution for introducing fibres into modern day concretes.
---
More info Find out more about MEKA products from manufacturer's website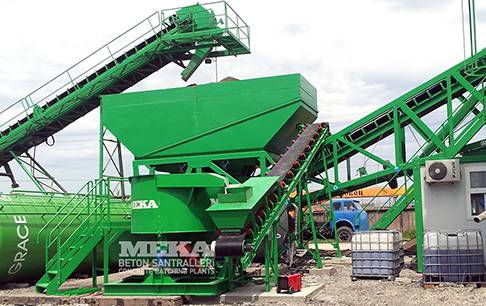 Strong concrete for lower costs
MEKA Fiber Dosing equipment includes highly accurate steel/hard plastic and soft fibre dosing systems with a range of dosing capacities shown in the table to suit the individual needs of our customers. Integrated conveyor and storage are available on request as well as additional equipment custom-made for the requirements of our customers.
Weighing process can be integrated into the automation of the concrete plant to ensure full control over mixing quality and homogeneity. All equipment is produced in accordance with CE and EMC directives.
The machine dosing tray is commonly filled up with fibres from big bags, but it can also be boxes or paper bags. Crane or forklift can be used for loading. By using indicators from the control panel on the fibre feeder or directly from concrete plant computer the desired weight per batch can be set. We use negative weighing method. Weighed fibres are fed by the fibre feeding conveyor onto aggregates on the mixer feeding belt conveyor or into skip hoist. Fibre flow is adjusted according to aggregate flow to provide better distribution and to pre-mix fibre and aggregates.
Provides strong concrete for lower costs
types of fibres: Steel, Plastic (Polyester, Polypropylene, Polyethylene), Glass, Natural materials (Wood cellulose, Bamboo)
Sensitive loadcells provide high accuracy weighing with less than 1% tolerance (depending on the type of fibre). The amount per batch can be adjusted by using indicators on the feeder or if fully integrated directly from the batch computer. With full integration several report types are available.
Interested?
See more Fibre Dosing Systems in our gallery, learn more from downloads or contact us for information.